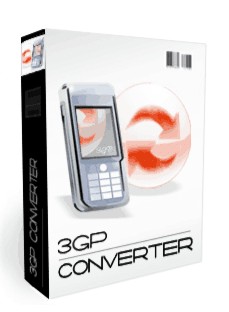 MobiRise 3GP Converter
for Windows
MobiRise 3GP Converter, with a new approach to design of video converting software, converts any video to 3gp easy and fun. Enjoy your favorite video clips on your mobile with MobiRise 3GP Converter!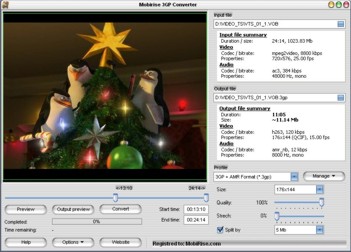 Key Features
Easy and 3gp-focused interface. All 3GP converters available on the Net are just truncated versions of other universal video convertors, so using that type of software requires good knowledge and understanding of the video converting cobwebs. MobiRise 3GP Converter is exactly developed for 3GP video to make it easier for users to start converting for portable devices.
Fast result preview. Now there is no need to convert the whole video file (that can be several hours in length) to only take a look at the output quality. Click "Output Preview" button and the Mobilise 3GP Converter will convert a small part of the original video clip and play the it with output quality you select. Very convenient!
High quality. With 100% Quality slider position the online website builder will create 3GP video with the best quality you ever seen.
Start/End slider. Another useful control that helps you to visually set your cut points. Reduce the output file size by removing needless ads, credits, etc...
Profiles. Don't worry about that strange video settings! Simply select the profile with your phone model. Create your own profiles, send to friends or to us and we'll add them in the next version.
All video format support. It's inconceivable how many video formats you can find on the Web or on your computer! MV, MPEG, AVI, VOB, RM, MP4, MOV, H.264, etc.. MobiRise 3GP Converter eats them all! And what is more, it converts a 3GP video from your phone to AVI or MPEG.
"Split by". A lot of cell phones don't have a good video player. Therefore it becomes a real headache to play a long video clips on that devices. No rewind, no fast forward. Every time you stop the video playback, you should start from the beginning. "Split by" option splits your video into smaller clips by file size or by number of minutes to play them one-by-one.
Fast. Improved converting algorithm, specially optimized for quality 3gp format video, generates the output video excitedly fast. The full version converts even faster!
All codecs built-in. All-in-one solution. Mobilise 3GP Converter will work even if you computer doesn't have video codecs installed at all.
Quality slider. Move this Quality slider and see the resulting file size in "Output summary" field to fit your memory card.
Advanced options. Video guru? Use extended profile option to set custom bit rate, audio/video codecs, frame rate, sample rate, video size, etc..
New! Mobilise 3GP Converter v1.10
MS Vista support.
Crop. Fit you video to your mobile screen resolution w/o top and bottom black fields.
New Profiles. Some new profiles and profiles are now saved with human-readable file name.
.ini file. Program settings are saved in local ini file, not in the registry.
Tool Tips. Tooltips added to every control.
640х480. 640х480 screen resolution added.
Fixes. Bugs with mpeg1video converting and converting to avi and mpeg4 fixed.